THE INSTITUTE OF CONTEMPORARY ART/BOSTON
"Pure delight." —Boston Globe

Nick Cave first gained widespread recognition for his "Soundsuits": full-body outfits crafted from discarded objects found in antique shops and flea markets. Part sculpture, part costume, the complex, kaleidoscopically colorful works of art can be displayed as objects, and also often feature in solo and group movement performances. They are the kind of artistic hybrids that could only be created by an artist such as Cave, who trained as a dancer through the Alvin Ailey American Dance Theater and now directs the fashion graduate program at the School of the Art Institute of Chicago.

Although the suits appear vibrant and joyful, crafted from materials such as buttons, beads, and bright synthetic fur, their origin is more sober. Cave created his first Soundsuit after the Rodney King beating in 1992. "I built this sort of suit of armor, and by putting it on, I realized that I could a make a sound from moving in it," Cave told The Washington Post. "It made me think of ideas around protest, and how we should be a voice and speak louder."

More recently, the Chicago-based artist has applied his signature assemblage techniques to freestanding sculptures bursting with ceramic flowers and birds, beads, and other cast-off oddities—even furniture and life-size dog figurines. Cave recognizes similarities between these figurines, which he "rescues" from flea markets and antique shops, and dogs rescued from animal shelters. The exhibition will present a selection of these new creations, as well as several new Soundsuits and large bas-relief sculptures that Cave calls "paintings."

Organized by Jenelle Porter, Mannion Family Senior Curator.

---

TAKE A TOUR
Jenelle Porter, Mannion Family Senior Curator, and artist Nick Cave introduce the exuberant, intricately constructed Soundsuits, sculptures, and three-dimensional "painting" in Nick Cave.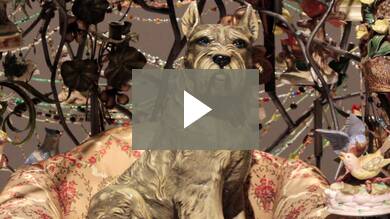 ---
Nick Cave
is generously sponsored by


Additional support is provided by Steve Corkin and Dan Maddalena
and Curtis R. Kemeny.


Image: Nick Cave,
Soundsuit
, 2013. Mixed media including crochet blanket and sequins, 108 x 27 x 14 inches. Courtesy of the artist and Jack Shainman Gallery, New York. Photo by James Prinz Photography.