THE INSTITUTE OF CONTEMPORARY ART/BOSTON

The Refusal of Time "reveals a great artist working at the peak of his powers." —Boston Globe

South African artist William Kentridge's recent installations have skillfully integrated moving image, sound, theater and sculptural elements in order to explore themes of science, globalization, colonialism, and memory.
The 30-minute, five-channel video installation The Refusal of Time, which features live action, song, and the innovative animation for which Kentridge is known, came out of years of discussion and collaboration between Kentridge and Peter Galison, professor of History of Science at Harvard University, about different historical conceptions of time.
Viewers of the work are met by a "breathing machine," called an elephant, and a platoon of projected metronomes, each asserting its own inescapable tempo. The elephant is a reference to Dickens's Hard Times, in which machines move "like an elephant in a state of melancholy madness."
Kentridge and Galison outline a history of our changing comprehension of time, from an early celestial understanding to Newton's absolute or mathematically precise time, to the subjective influence of Einstein and his theory of relativity. Contrasting the version of time once performed by a town jeweler, who used the sun and his best instruments to fix the correct time on a village clock, with Britain's imposition of a universal time throughout its empire, Galison writes that time shifted from the realm of "metaphysics to coordinated signals."

The "refusal" in the work's title is both personal and political: "Everybody knows that we are going to die," writes Kentridge, "but the resistance to that pressure coming towards us is at the heart of the project. At the individual level, it was about resisting; not resisting mortality in the hope of trying to escape it, but trying to escape the pressure that it puts on us." Politically, "the refusal was a refusal of the European sense of order imposed by time zones; not only literally, but this refusal also referred metaphorically to other forms of control as well."
In The Refusal of Time, the pair wanted neither to use "science as backdrop" for art nor to employ "art as illustration" of science. Rather, they wanted "something more elusive: an intensification of our encounter with time."

ALSO ON VIEW
Kentridge has often argued that drawing is at the root of all his work. A selection of works on paper demonstrating a range of the artist's techniques—from charcoal drawing to etching to drypoint—will be displayed in a gallery outside of The Refusal of Time.
---

TAKE A TOUR
Helen Molesworth, Barbara Lee Chief Curator, talks about the ideas and artistic practices behind his immersive The Refusal of Time, created in collaboration with Philip Miller, Catherine Meyburgh, and Peter Galison.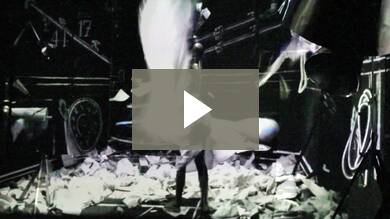 ---
Support for William Kentridge: The Refusal of Time provided by Kate and Charles Brizius; Paul and Katie Buttenwieser; Vivien and Alan Hassenfeld and the Hassenfeld Family Foundation; Hal and Jodi Hess; and Charles and Fran Rodgers.


Image: William Kentridge, The Refusal of Time, 2012. A collaboration with Philip Miller, Catherine Meyburgh and Peter Galison. Five-channel video with sound, 30 min, with megaphones and breathing machine ('elephant'). Image courtesy of the artist.