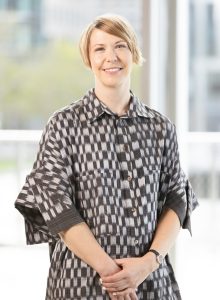 Ruth Erickson, Barbara Lee Chief Curator and Director of Curatorial Affairs, has been a driving force in the ICA's curatorial department since joining the museum in 2014. A curator and scholar of contemporary art, she is deeply committed to facilitating artists and institutions working together to create meaningful exhibitions, books, and programs that promote justice and inspire curiosity in the world.
Among her many projects at the ICA, she has organized major thematic group exhibitions, including the critically acclaimed To Begin Again: Artists and Childhood (2022), A Place for Me: Figurative Painting Now (2022), and When Home Won't Let You Stay: Migration through Contemporary Art (2019); a significant artist survey and publication Mark Dion: Misadventures of a 21st-Century Naturalist (2017); and solo presentations of Guadalupe Maravilla (2003), María Berrío (2023), Barbara Kruger (2022), Tschabalala Self (2020), Vivian Suter (2019), Wangechi Mutu (2018) (2018), and Kevin Beasley (2018), among others. Her writing has appeared in numerous publications, including the 2015 exhibition and publication Leap Before You Look: Black Mountain College 1933–57 (for which she was co-editor and served as research fellow), Ruth Asawa: All is Possible (2021), Kevin Beasley (2018), Sue Williams (2015), and Take It or Leave It: Institution, Image, Ideology (2014).
Before joining the ICA, Erickson was a fellow at the Institute of Contemporary Art Philadelphia (2008–10) and served as curator at Burlington City Arts (BCA) (2004–7). She received her M.A. and Ph.D. in Art History from the University of Pennsylvania, and was the recipient of a prestigious Center for Curatorial Leadership Fellowship in 2022.