(Boston, MA—July 16, 2019) The Institute of Contemporary Art/Boston (ICA) presents a robust schedule of dynamic performances as part of the upcoming season. Highlights include a restaging of acclaimed choreographer Anne Teresa De Keersmaeker's very first performance; THE DAY, a new music/dance collaboration among legends Maya Beiser, Wendy Whelan, Lucinda Childs, and David Lang; and a raw and visceral live performance album by nora chipaumire, "a kind of rock star of dance" (The New Yorker).
All events take place in the Barbara Lee Family Foundation Theater at the ICA, 25 Harbor Shore Drive, Boston. Tickets can be purchased at www.icaboston.org or by calling 617-478-3103.
See icaboston.org for extended descriptions, artist bios, trailers, and production and accessibility info.
Dance
Thu Sep 19–Sat, Sep 21, 8 PM
Anne Teresa De Keersmaeker/Rosas
Fase, Four Movements to the Music of Steve Reich
$25 ICA members + students / $35 general admission
Premiered in 1982, choreographer Anne Teresa De Keersmaeker's very first performance comprises three duets and one solo, choreographed to four compositions by the American minimalist composer Steve Reich. De Keersmaeker uses the structure of Reich's music to develop an independent movement idiom that doesn't merely illustrate the music but adds a new dimension to it. Both the music and the dance start from the principle of "phase shifting" through tiny variations: movements that start out perfectly synchronous gradually slip and move out of sync, resulting in an ingenious play of continuously changing forms and patterns. Having always danced Fase herself, De Keersmaeker will pass the work to two new dancers at the ICA, for the first time in the work's history.
Fri, Oct 18 + Sat, Oct 19, 8 PM
nora chipaumire
#PUNK 100% POP *N!GGA
$15 ICA members + students / $25 general admission  
Friday: #PUNK and 100% POP
Saturday: 100% POP and *N!GGA
Born in Mutare, Zimbabwe and based in New York City, choreographer nora chipaumire challenges and embraces stereotypes of Africa and the black performing body, art and aesthetics. Inspired by her formative years in Zimbabwe, #PUNK 100% POP *N!GGA is a raw and visceral live performance album that confronts and celebrates three sonic ideologies: punk, pop, and rumba, through the radical visions of musicians Patti Smith, Grace Jones, and Rit Nzele. chipaumire and her company of dancers and musicians raucously question how status and power are experienced and presented through the body. Featuring a stage set designed by visual artists Ari Marcopoulos and Kara Walker, the work is a continuation of chipaumire's career-long investigation of portraiture and self-portraiture, biography, subjecthood, liberation, and independence as a black female and African. Note: The audience remains standing for much of the performance.
Thu, Nov 21–Sat, Nov 23, 8 PM
Sun, Nov 24, 2 PM
Faye Driscoll
Thank You For Coming: Space
$20 ICA members + students / $30 general admission  
One of the most fascinating and astonishing choreographers working today, Faye Driscoll returns to the ICA with the final installment of her Thank You For Coming trilogy. Alone with the audience, Driscoll performs a moving elegy about loss, the substance of mourning, and the labor of grief. In Space, Driscoll and her collaborators construct a temporary world held up by pulleys, ropes, and the weight of others. At its center is the body—built for action, self-contained, and driven by a longing to be in the world. "A visual embodiment of grief and loss combined with a fierce proclamation of the ecstasy of living" (Montclair Local).
Fri, Jan 17 + Sat, Jan 18, 8 PM
Kate Wallich + The YC x Perfume Genius
The Sun Still Burns Here
$20 ICA members + students / $30 general admission  
The Sun Still Burns Here is an evening-length dance and music work created by Seattle-based choreographer Kate Wallich and her company The YC and musician/composer Mike Hadreas of the band Perfume Genius. Combining Hadreas's musical textures and landscapes, Wallich's choreographic narratives, and Amiya Brown's production design, The Sun Still Burns Here unravels themes of deterioration, catharsis, and transcendence from the body. Wallich and Hadreas unite a team of musicians, dancers, and designers to create a stunning and emotionally complex performance that radically integrates indie rock with contemporary dance.
Fri, Feb 21 + Sat, Feb 22, 8 PM
Reggie Wilson/Fist and Heel Performance Group
POWER
$15 ICA members + students / $25 general admission  
For over 30 years, Reggie Wilson and his Fist and Heel Performance Group have explored the spiritual and mundane traditions of Africa and its Diaspora through contemporary dance. Expanding on his previous research of African American spiritual worship and movement, Wilson's newest work, POWER, considers how the Black Shaker community might have lived and worshipped. POWER takes Inspiration from notable Shaker women leaders like Mother Ann Lee, founder of the Shaker community, and Mother Rebecca Cox Jackson, founder of the first African-American urban Shaker family group in Philadelphia. Featuring a thrilling cast of performers, POWER examines and enlivens Shaker values, contributions, practices, and history through a postmodern American lens.
Fri, Apr 24 + Sat, Apr 25, 8 PM
Sun, Apr 26, 2 PM
Maya Beiser + Wendy Whelan + Lucinda Childs + David Lang
THE DAY
$30 ICA members + students / $40 general admission  
THE DAY is a new music/dance work by cellist Maya Beiser, dancer Wendy Whelan, choreographer Lucinda Childs, with music by David Lang. A collaboration among legends, THE DAY is an evening-long sensory exploration of two journeys—life and the eternal, post-mortal voyage of the soul. This bold, highly collaborative work explores universal themes through the shared language of music and dance. Renowned avant-garde cellist Maya Beiser, who conceived the piece, has been described by the Boston Globe as "a force of nature" and by Rolling Stone as a "cello rock star." Wendy Whelan, widely considered one of the world's leading dancers, spent 30 years as a principal dancer with New York City Ballet and originated numerous roles in new works by the world's most esteemed choreographers. The two will be onstage all evening, embodying the iconic choreography of Lucinda Childs (a Commandeur in France's Ordre des Arts et des Lettres and 2018 inductee in Hall of Fame at the National Museum of Dance) to the original music of Pulitzer Prize-winner David Lang.
Music
Thu, Mar 26, 8 PM
Roger C. Miller and Ludovico Ensemble
Electric Guitars, String Quartet, Dreams and Records
$10 ICA members + students / $15 general admission  
Rock musician Roger Miller, a founding member of the band Mission of Burma and a longtime member of the Alloy Orchestra, showcases a different musical perspective, blending elements of classical and rock music, in a unique concert event. Performing original compositions influenced by everyday phenomena, as well as surrealism, Miller conjures a one-person orchestra with his electric guitar using loops, devices and electronics. The second part of the evening features Miller's music for String Quartet performed by Boston's own Ludovico Ensemble that culminates in "Music for String Quartet and Two Turn-tables," with Miller joining in on the turn-tables.
Fall Exhibitions
2019 James and Audrey Foster Prize
Aug 21–Dec 31, 2019
The 2019 installment of the ICA's biannual James and Audrey Foster Prize exhibition highlighting the work of Boston-area artists will feature four individuals: Rashin Fahandej (b. 1978, Shiraz, Iran), Josephine Halvorson (b. 1981, Brewster, MA), Lavaughan Jenkins (b. 1976, Boston, MA), and Helga Roht Poznanski (b. 1926, Tartu, Estonia). This intergenerational group of artists works across media, including painting, sculpture, film, and video, to explore questions of place, portraiture, and belonging. Their unique and exceptional work demonstrates the breadth and ecology of contemporary art practices in Boston. First established in 1999, the James and Audrey Foster Prize (formerly the ICA Artist Prize) is central to the ICA's efforts to nurture and recognize local artists, showcase exceptional artwork, and support a thriving local arts scene. This exhibition is organized by Ruth Erickson, Mannion Family Curator.
Vivian Suter
Aug–Dec 31, 2019
Vivian Suter (b. 1949, Buenos Aires, Argentina) works in close partnership with the natural environment surrounding her home and studio in Panajachel, Guatemala. The artist's first Boston exhibition will feature a single installation filling the galleries with a canopy of color and shapes evocative of the lush setting. Her method often involves moving her canvases between the indoors and outdoors and exposing them to the climate in order to allow nature to comingle with her broad swaths of painted, vivid color. The mud and rain, light through the trees, and animals in the forest work in concert with Suter's gestural compositions, which are inspired by the surrounding vegetation and landscape. Her installation of layered and suspended canvases invites visitors to discover her unique dialogue with the imagined and natural worlds. This exhibition is organized by Ruth Erickson, Mannion Family Curator.
Yayoi Kusama: LOVE IS CALLING
Sep 24, 2019–Feb 7, 2021
An icon of contemporary art, Yayoi Kusama (b. 1929, Matsumoto, Japan) has interwoven ideas of pop art, minimalism, and psychedelia throughout her work in paintings, performances, room-size presentations, outdoor sculptural installations, literary works, films, design, and architectural interventions over her long and influential career. LOVE IS CALLING, which premiered in Japan in 2013, is the most immersive and kaleidoscopic of the artist's Infinity Mirror Rooms. Representing the culmination of her artistic achievements, it exemplifies the breadth of her visual vocabulary—from her signature polka dots and soft sculptures to brilliant colors, the spoken word, and most importantly, endless reflections and the illusion of space. It is composed of a darkened, mirrored room illuminated by inflatable, tentacle-like forms—covered in the artist's characteristic polka dots—that extend from the floor and ceiling, gradually changing colors. As visitors walk throughout the installation, a sound recording of Kusama reciting a love poem in Japanese plays continuously. Written by the artist, the poem's title translates to "Residing in a Castle of Shed Tears" in English. Exploring enduring themes including life and death, the poem poignantly expresses Kusama's hope to spread a universal message of love through her art. LOVE IS CALLING is the largest of Kusama's existing Infinity Mirror Rooms, and the first one held in the permanent collection of a New England museum. Yayoi Kusama: LOVE IS CALLING is organized by Eva Respini, Barbara Lee Chief Curator.
Parallel to LOVE IS CALLING, the ICA will present a focused collection presentation titled Beyond Infinity: Contemporary Art After Kusama, to provide visitors with a deeper understanding of how Kusama has indelibly influenced art today. The 14th iteration of the ICA's annual collection exhibition, Beyond Infinity will feature approximately 15 works from the 1950s to today, encompassing sculpture, painting, film, photography, and drawings.
When Home Won't Let You Stay: Migration through Contemporary Art
Oct 23, 2019–Jan 26, 2020
When Home Won't Let You Stay: Migration through Contemporary Art considers how contemporary artists are responding to the migration, immigration, and displacement of peoples today. We are currently witnessing the highest levels of movement on record—the United Nations estimates that one out of every seven people in the world is an international or internal migrant who moves by choice or by force, with great success or great struggle. When Home Won't Let You Stay borrows its title from a poem by Warsan Shire, a Somali-British poet who gives voice to the experiences of refugees. Through artworks made since 2000 by twenty artists from more than a dozen countries — such as Colombia, Cuba, France, India, Iraq, Mexico, Morocco, Nigeria, Palestine, South Korea, the United Kingdom, and the United States — this exhibition highlights diverse artistic responses to migration ranging from personal accounts to poetic meditations, and features a range of mediums, including sculpture, installation, painting, and video. Artists in the exhibition include Kader Attia, Tania Bruguera, Isaac Julien, Hayv Kahraman, Reena Saini Kallat, Richard Mosse, Carlos Motta, Yinka Shonibare, Xaviera Simmons, and Do-Ho Suh, among others. A fully illustrated catalogue accompanies the exhibition, with an essay by Eva Respini and Ruth Erickson and texts by prominent scholars Aruna D'Souza, Okwui Enwezor, Thomas Keenan, Peggy Levitt, and Uday Singh Mehta, among others. This exhibition is organized by Ruth Erickson, Mannion Family Curator, and Eva Respini, Barbara Lee Chief Curator, with Ellen Tani, Assistant Curator.
About the ICA
Since its founding in 1936, the ICA has shared the pleasures of reflection, inspiration, imagination, and provocation that contemporary art offers with its audiences. A museum at the intersection of contemporary art and civic life, the ICA has advanced a bold vision for amplifying the artist's voice and augmenting art's role as educator, incubator, and convener for social engagement. Its innovative exhibitions, performances, and educational programs provide access to contemporary art, artists, and the creative process, inviting audiences of all ages and backgrounds to participate in the excitement of new art and ideas. Spanning two locations across Boston Harbor, the ICA offers year-round programming at its iconic building in Boston's Seaport and seasonal programming (May-September) at the Watershed in an East Boston shipyard.
The ICA is located at 25 Harbor Shore Drive, Boston, MA, 02210. The Watershed is located at 256 Marginal Street, East Boston, MA 02128. For more information, call 617-478-3100 or visit our website at icaboston.org. Follow the ICA at Facebook, Twitter, and Instagram.
---
Acknowledgments
First Republic Bank is proud to sponsor the 2019–20 Performance Season ICA Live.

Additional support is generously provided by Edward Berman and Kathleen McDonough and Robert Davoli and Eileen McDonagh.
nora chipaumire: #PUNK 100% POP *N!GGA is funded in part by the Expeditions program of the New England Foundation for the Arts, made possible with funding from the National Endowment for the Arts, with additional support from the six New England state arts agencies.
The presentation of Reggie Wilson/Fist and Heel Performance Group: POWER was made possible by the New England Foundation for the Arts' National Dance Project, with lead funding from the Doris Duke Charitable Foundation and The Andrew W. Mellon Foundation.
Reggie Wilson/Fist and Heel Performance Group: POWER is supported, in part, by the David Henry Fund for Performance.
The presentation of Maya Beiser, Wendy Whelan, Lucinda Childs + David Lang, THE DAY was made possible by the New England Foundation for the Arts' National Dance Project, with lead funding from the Doris Duke Charitable Foundation and The Andrew W. Mellon Foundation.
THE DAY is a Summer Stages Dance @ the ICA/Boston project and is made possible, in part, with the support of Jane Karol and Howard Cooper, David Parker, The Aliad Fund, and Stephanie and Leander McCormick-Goodhart.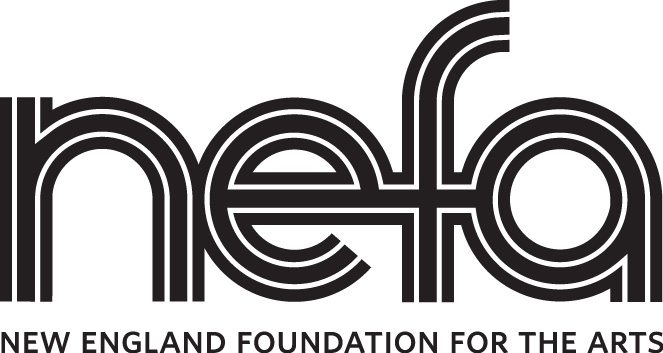 The 2019 James and Audrey Foster Prize exhibition and prize are generously endowed by James and Audrey Foster.
Support for Vivian Suter is generously provided by Fotene Demoulas and Tom Coté and Alan and Vivien Hassenfeld.
LOVE IS CALLING was acquired through the generosity of Barbara Lee, The Barbara Lee Collection of Art by Women, Fotene Demoulas and Tom Coté, Hilary and Geoffrey Grove, Vivien and Alan Hassenfeld, Jodi and Hal Hess, Barbara H. Lloyd, and an anonymous donor.
Support for When Home Won't Let You Stay: Migration through Contemporary Art is generously provided by Paul and Catherine Buttenwieser, Steve Corkin and Dan Maddalena, Alan and Vivien Hassenfeld, Kristen and Kent Lucken, the Poss Family Foundation, and Mark and Marie Schwartz.